Cyprianerhof Dolomit Resort
Tires al Catinaccio
© Cyprianerhof Dolomit Resort
Guided trips, every day throughout the year
Alpine Wellness with natural products and a relaxing program
A fantastic panoramic position
© Cyprianerhof Dolomit Resort
© Cyprianerhof Dolomit Resort
© Cyprianerhof Dolomit Resort
© Cyprianerhof Dolomit Resort
© Cyprianerhof Dolomit Resort
© Cyprianerhof Dolomit Resort
© Cyprianerhof Dolomit Resort
© Cyprianerhof Dolomit Resort
© Cyprianerhof Dolomit Resort
© Cyprianerhof Dolomit Resort
© Cyprianerhof Dolomit Resort
Guided trips, every day throughout the year
Alpine Wellness with natural products and a relaxing program
A fantastic panoramic position
When do you want to stay in Cyprianerhof Dolomit Resort?
Rooms and suites
Select the rooms you prefer and use the availability request form to contact the property directly
Delago Room
2 - 4 guests
Max 2 children
35-40 smq
from
178.00 €
night/person
In modern "Alpine Lifestyle" style. Decorated in oak wood with a comfortable living area with loden fabrics, spacious sofa and a large glass wall facing the unique setting of the Catinaccio massif. A large bathroom with large shower, sink and hair dryer with separate WC and bidet.
starting from:
178.00€
night/person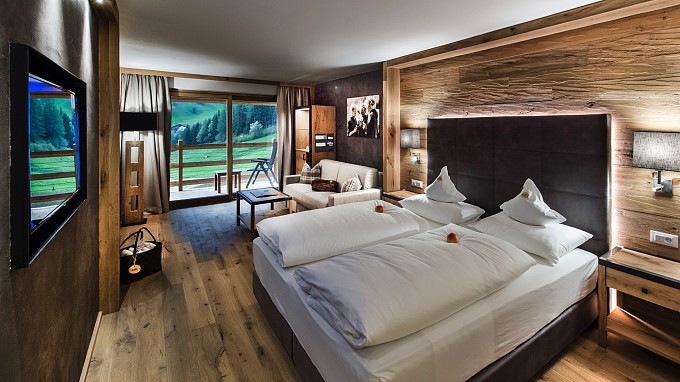 Natura Saltern Room
from
182.00 €
night/person
Furnished in modern "Alpine Lyfestyle" style with loden fabrics, wooden furniture and floors made of locally sourced larch. Spacious bathroom with underfloor heating
starting from:
182.00€
night/person
Jungbrunn Family Room
2 - 4 guests
Max 2 children
42 smq
from
176.00 €
night/person
In modern "Alpine Lifestyle" style, with a bedroom for children, separated on about 42 square meters. Furnished with oak wood and loden fabrics. Welcoming living area with sofa and armchair. The large window lets you into the stunning scenery of the Sciliar. Bathroom with large shower, sink, hair dryer, bidet and separate toilet complete the comfortable atmosphere.
starting from:
176.00€
night/person
Valbona Room
2 - 4 guests
Max 2 children
28-32 smq
from
146.00 €
night/person
Room with wonderful view of the Sciliar. The natural materials such as pine, larch and loden fabrics create a warm and relaxing atmosphere.
starting from:
146.00€
night/person
Packages
Snow-shoe hiking week 7=6
The weekly programm:

Every Saturday at 9 p.m. we invite you to an aperitif and to introduce our weekly programme. There is also an equipment check and an introductory course for snow-shoe hikers.

Days 2 - 7: 6 guided snow-shoe hiking tours near the Rosengarten, at the foot of the Latemar massif, across the wide snow-covered meadows of the Alpe di Siusi, into the Ciamin Valley, on the Schlern and below other surrounding mountains.

Inclusive services:
- 7 nights with 3/4 board
- Daily guided snowshoe hikes
- Equipment rental (high-tec snowshoes, poles, gaiters, backpacks)
- 1 Wellness voucher (value € 35,00)
Carezza All Inclusive
- 7 days 3/4 board
- 5 days skipass Carezza Ski
- 6 launches on a hut with mineral water
- 5 days rental of ski equipment
- all non-alcolic drinks (softdrinks) in the hotel
Time to "catch your breath" 4=3 (Sun-Up, Mon-Fri)
- 4 days half board
- Daily sauna ritual
- Every day excursions with guide
- Easy to learn exercises
Inclusive wellness voucher for:
- Free breathing - snake thyme and Swiss pine
- 1 mountain pine and alpine mud pack
Time for myself 4=3 (Sun-Day, Mon-Fri)
- 4 days half board at the cost of 3
- Use of the wellness area with indoor and outdoor pool heated to 30° with view of the Rosengarten
- Participation in the daily active programme with our mountain guides
- Wellness voucher of 50,00€
First class services
Welcome to the Similde SPA
If the body is relaxed, the mind can also benefit from it: recharging your energies means first of all to breathe, clear your mind and let yourself go in the magnificent Similde SPA. The environment is surrounded by water, wood, stones and fire created to take guests into a relaxed atmosphere of well-being. In addition to treatments and massages, cosmetic lines for face and body are also available. They are conceived to improve every cell of your body, but they also moisturize and soften the skin in addition to rebalancing the metabolism. For those who do not settle easily, there is also the SPA Manicure and SPA Pedicure. For a smooth body, the peeling with mountain salt or the Jojoba peeling are the ideal solutions. Alternatively, a good way to relax is given by Baths Alpini, different types of bathrooms with alpine essences.
Local Tastes
A combination of simple and natural ingredients, that's what allows us to create authentic and genuine dishes. From morning till night you will always be accompanied by a high-class gourmet cuisine. Tures' meat, homemade pasta with local flour, vegetables, and berries from the province of South Tyrol: this is the pleasure of sitting at the table.
High altitudes emotions
Positioned in a spectacular mountain scenery, the hotel is an ideal point to practise wonderful activities directly on the Dolomites. The Cyprianerhof, among its many services, has an abundant weekly program that consists of exercises to strengthen body and soul. Yoga, Water Aerobics, rocks course, technical mountain bike course, slackline, climbing exercises, various excursions and much more. Satisfying any customer's need, the structure has been awarded 5 rock crystals in the category Wanderhotels.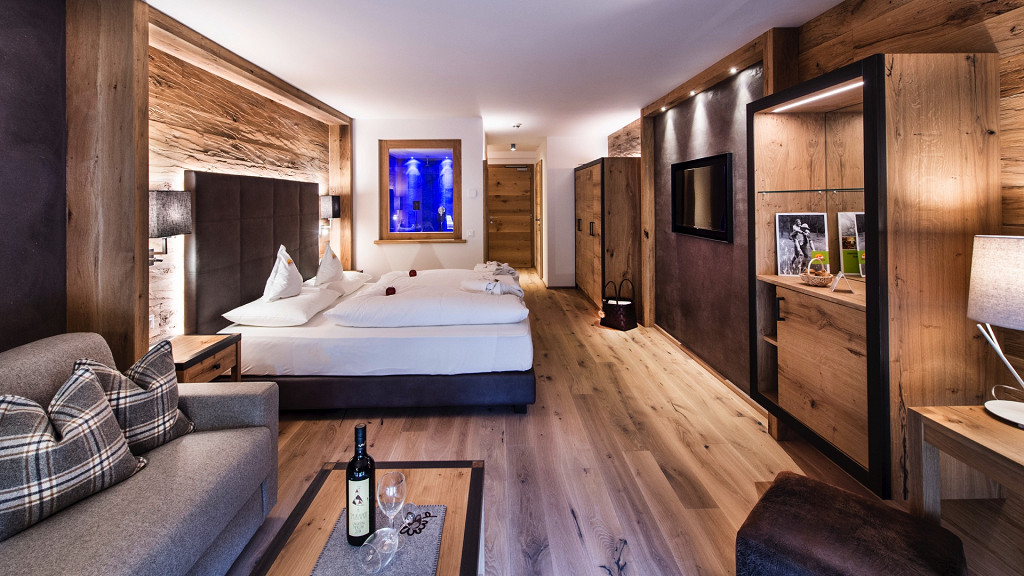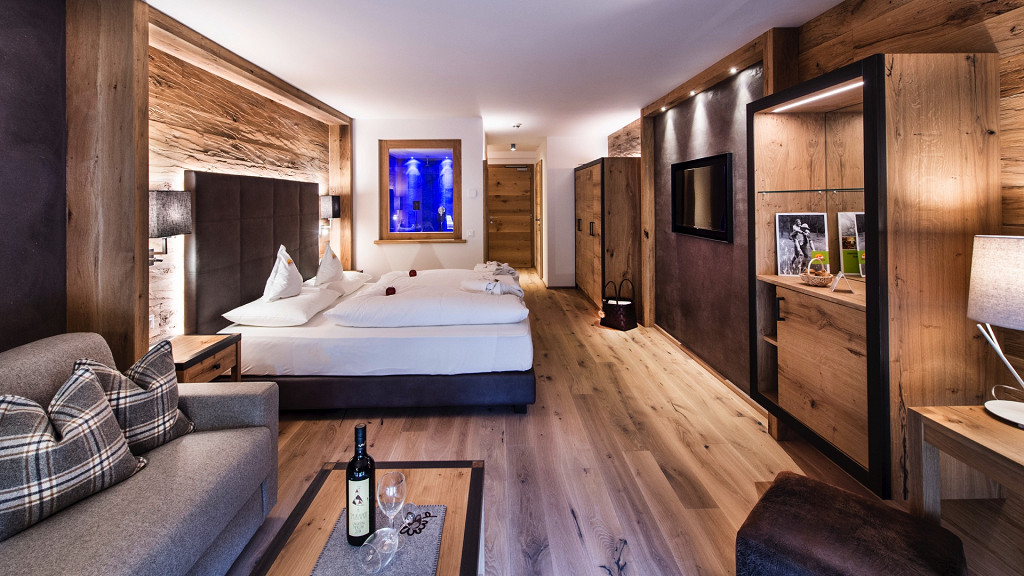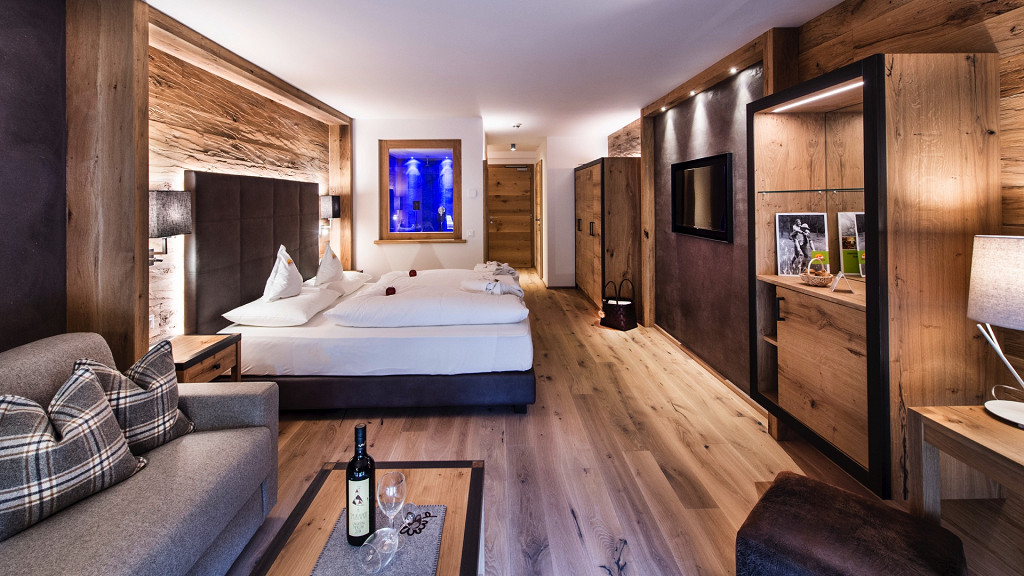 Environmental sustainability
In any Cyprianerhof space, you will meet a modern design combined with a friendly atmosphere. Materials such as wood, stone, glass have been used in the different environments creating together the typical feeling of South Tyrol of warmth and cordiality. The fundamental principle to which the Damian Family and all the staff wanted to appeal is dictated by the respect and sustainability of the environment. Built according to the principles of the Climate House, the hotel is designed to make the most of solar energy throughout the year.
Cyprianerhof Dolomit Resort
Fam. Damian
Go to the website
Cyprianerhof Dolomit Resort is a 5 stars hotel located in the charming and pure Tires Valley at the foot of the majestic Catinaccio, in the protected area of the Natural Park Sciliar-Catinaccio. Here, in the heart of the Dolomites, a fascinating alpine landscape is waiting for you to explore it during a stay that will bring out well-being, relaxation and love for nature.
The hotel is indeed the ideal starting point for excursions on foot or on two wheels, climbing and trekking for experts or enthusiasts. You can also rent equipment for free (backpacks, sticks, water bottles etc.) and for those who love venturing into pure and unforgettable mountain environments, there is the possibility of being accompanied by experienced mountain guides to discover the Catinaccio, the area designated as a World Heritage by UNESCO.
At Cyprianerhof you will be surrounded by nature both inside and out. The facility offers over 1,000 square metres dedicated to wellness: spa, saunas, indoor and outdoor pools, relaxation areas. Everything to cuddle guests with totally natural treatments, pure spring water, aromatic herbs and essential oils that can regenerate body and soul. And in order to stimulate the senses, you can also experience the emotional showers, the Kneipp path and the unmissable ice cave.
Moreover, the hotel's kitchen will delight even the most demanding palates with culinary creations that make use of the best organic products that the territory has to offer us: vegetables and fruit come from the most famous and environmentally aware farms, while milk and meats are from the alpine pastures and local producers. A culinary journey that will crown a holiday that is natural in every way possible.
Facilities and Conditions
Golf course 5 km
Horseback riding 5 km
Hiking trail <500 m
Bike rental <500 m
Mountain biking/ bike trail <500 m
Complimentary wireless internet
Children's play area
Baby sitting
Game room
Food and beverage outlets
Credit card

CartaSì
Euro/Mastercard
Visa
Indoor parking
Parking
Motorcycle parking
Exercise gym
Pool
Health and beauty services
Relaxation area
Spa
Sauna
Beauty farm
Ski room
Dolomiti Superski 5 km
Ski rental
Ski slopes <500 m
Cross country skiing 5 km
Snowboard <500 m
Free skibus
Gluten free
Vegetarian
Concierge breakfast
Welcome drink
Restaurant
Safe deposit box
Motocyclists welcome
Room service
Multilingual staff

Italian
English
German
French
Local transportation services