Hotel Chalet Mirabell
Avelengo
© Hotel Chalet Mirabell
Panoramic location on the mountains of Merano
Alpin Lifestyle Restaurant with gourmet cuisine
Wellness spa, relax & beauty
© Hotel Chalet Mirabell
© Hotel Chalet Mirabell
© Hotel Chalet Mirabell
© Hotel Chalet Mirabell
© Hotel Chalet Mirabell
© Hotel Chalet Mirabell
© Hotel Chalet Mirabell
© Hotel Chalet Mirabell
© Hotel Chalet Mirabell
© Hotel Chalet Mirabell
© Hotel Chalet Mirabell
© Hotel Chalet Mirabell
Panoramic location on the mountains of Merano
Alpin Lifestyle Restaurant with gourmet cuisine
Wellness spa, relax & beauty
When do you want to stay in Hotel Chalet Mirabell?
Rooms and suites
Select the rooms you prefer and use the availability request form to contact the property directly
Chalet Sole
2 - 4 guests
Max 2 children
53 smq
from
274.00 €
night/person
Luxurious chalet with loggia with panoramic view, spacious living and sleeping area, separate cosy corner, bathroom with shower, separate WC with bidet and Nespresso coffee machine.
starting from:
274.00€
night/person
Cembran Pine Bio Wellness Suite
2 - 4 guests
Max 2 children
45 smq
from
278.00 €
night/person
The suite offers a faux tiled stove, a relax couch and furniture in Swiss pine create a homey atmosphere. The vast bathroom features a shower and a bathtub. Loggia with a wonderful South-view.
starting from:
278.00€
night/person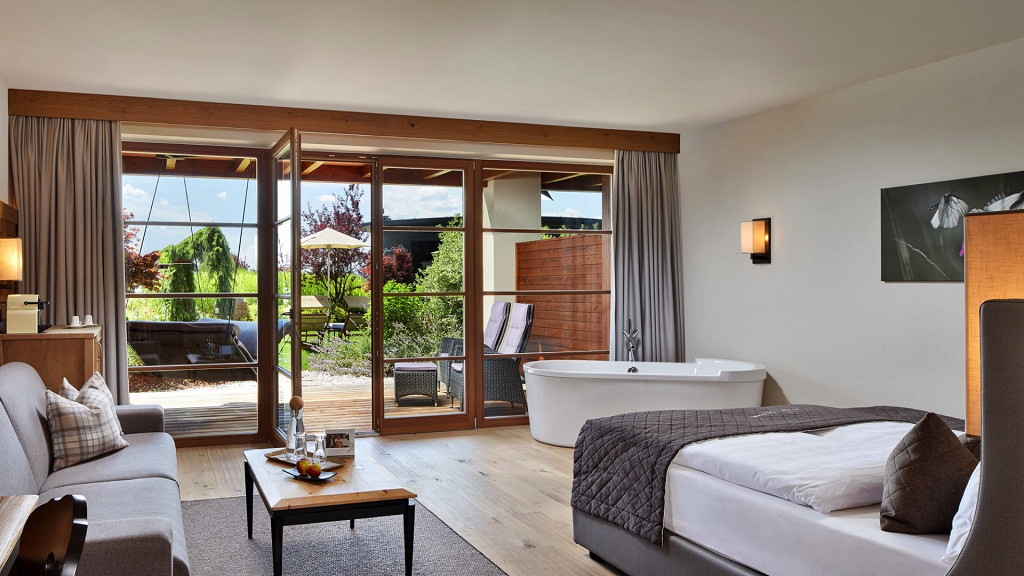 Chalet Garden
2 - 4 guests
Max 2 children
57 smq
from
277.00 €
night/person
Spacious bedroom-living room with bathroom with a modern central bathroom and a shower stall with rain effect shower. Includes about 15 square meters of terrace facing south with comfortable lounger. The American-style bed is a Deluxe Health-Sleep System bed and couch.
starting from:
277.00€
night/person
Garden Love
from
310.00 €
night/person
Romantic art-suite with 16 smq south-facing garden loggia, private garden with whirlpool, living room and room, suite with deluxe box spring beds with health sleep system, open designer bath with walk-in sensory shower for two, separate basins, wardrobe with shoe rack.
starting from:
310.00€
night/person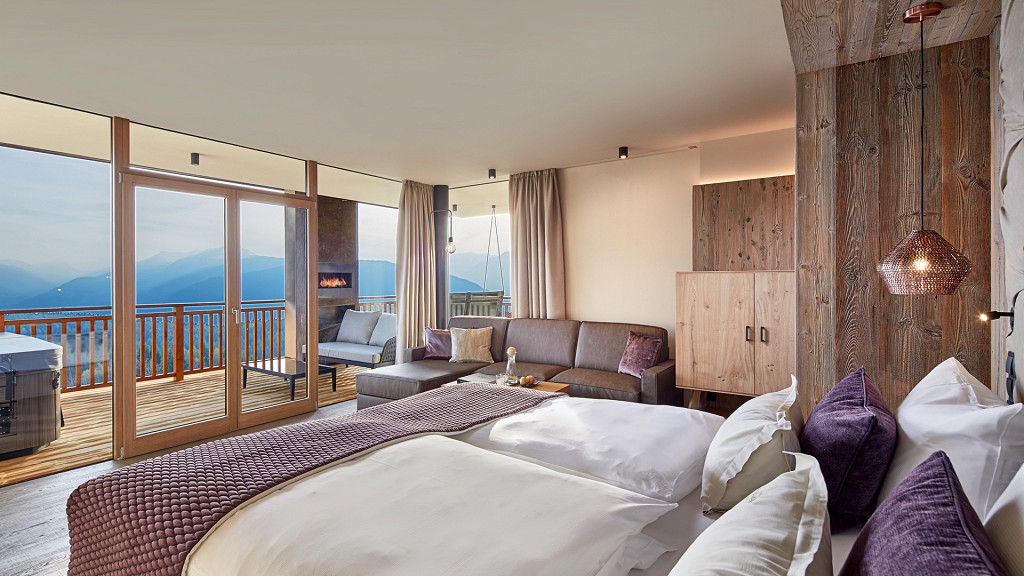 Mountain Family
2 - 6 guests
Max 4 children
90 smq
from
332.00 €
night/person
Luxury Family suite with 2 bedrooms, outside hot tub and private sauna. Spacious romantic balcony facing south with jacuzzi, comfortable lounger, Romantic-Flame, Delux Health-Sleep System bed. Second bedroom with two separate beds and panoramic window.
starting from:
332.00€
night/person
Mountain Love
from
294.00 €
night/person
This chalet suite is one of the themed rooms for couples and features a relaxation swing for two on the large romantic loggia to the south, a design bathtub in the open bathroom and a romantic flame in the sleeping area
starting from:
294.00€
night/person
Packages
Special Yoga Days
Escape from everyday life by immersing yourself in relaxation with the help of yoga and recharging your batteries before returning home ... all this is included in our 4-day yoga package. The energy and positivity accumulated here will help you to relax in everyday life and be at peace with yourself.
- 4 days of yoga, including 8 meditation and Kneipp units
- Welcome aperitif
- ¾ gourmet board
- Personalised advice and guidance
- New 100 m² multifunctional panorama room
Soulful driving week
Wind in the hair. Mountain view. Glass of wine in hand. During the annual Porsche meeting at Chalet Mirabell, you will be personally accompanied by the Reiterer family, who will show you all the beauty and diversity of South Tyrol.
- Introductory aperitif and presentation of the programme
- 3 panoramic tours
- One guided hike
- A shopping day in Merano for our women
Family Weeks
Free accommodation for 1 child up to 8 years if they sleep in the same room as the parents.
- Free accommodation for 1 child up to 8 years if they sleep in the same room as the parents
- Big exposed kids club
- Kids and baby pool
- Loving child care for children from 3 years old
- Guided family hiking tours
- Lama walks
- Soccer field for cool kids
Summer full of possibilities 4=3
- 4=3 including ¾ gourmet board
- Use of our Premium Wellness & Spa
- Active Body & Mind programme
- Yoga & Pilates
- Guided hikes
Special Deals 4=3
- We give you 1 night free!
- 4 days ¾ gourmet board
- Use of our Premium Wellness & Spa
- Active Body & Mind programme
Opening Special -10%
- 10% discount on a minimum stay of 3 nights
- 3/4 gourmet board included
- Use of our Premium Wellness & Spa
- Active Body & Mind programme
- Yoga & pilates
First class services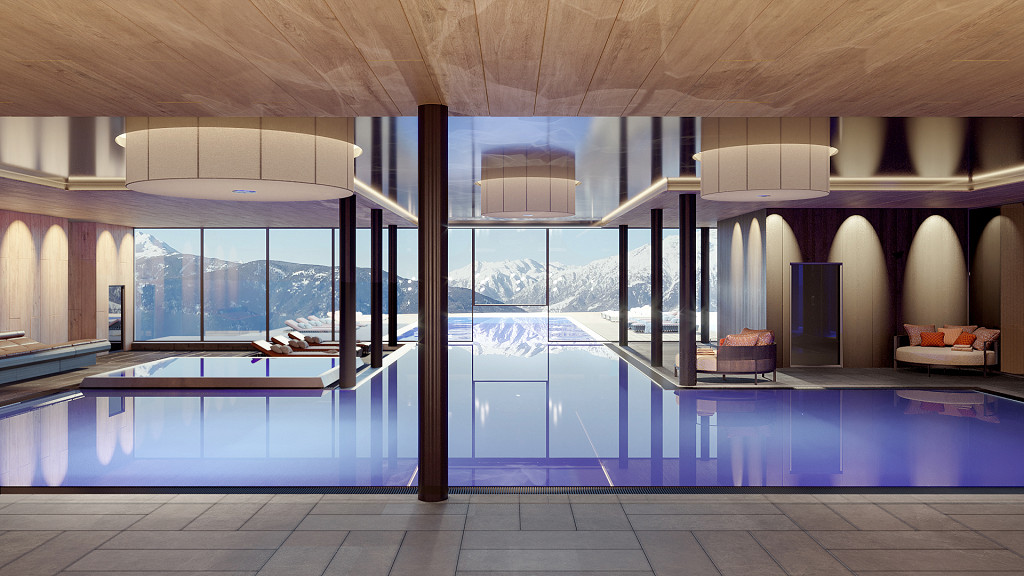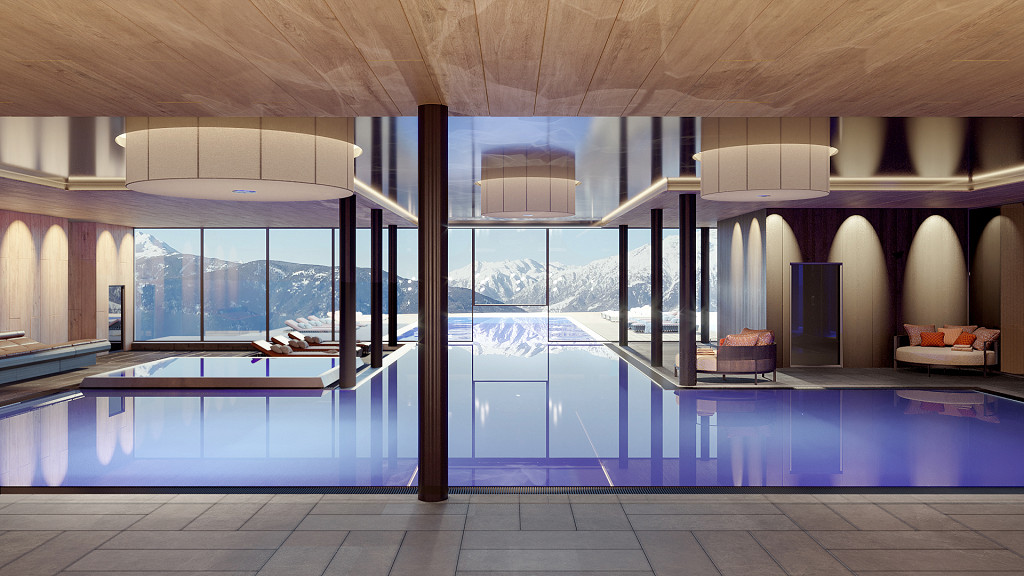 Good for body and mind
Treat yourself to a day of relaxation at the Mirabell Premium Spa Adults Only, in one of the most beautiful wellness areas of South Tyrol with an extraordinary panoramic view of Merano. Indulge in pure pleasure among a multitude of saunas, steam rooms, and relaxation areas. Among the many luxuries that you can enjoy at the Mirabell is the wonderful world of water with an with an outdoor infinity Sunset Relax Pool, Infinity pool, panoramic indoor heated swimming pool, natural swimming pond, and outdoor Jacuzzi. Beauty area with private Spa and special treatments, such as hot stone, Cranio-Sacral Therapy, Shiatsu, Dorn Breuss, Alpine and South Tyrol massages with hot stones and herb pistils, body and facial treatments with natural products of VITALIS Dr. Joseph e !QMSMEDICOSMETICS lines.
A touch of Italian elegance for an original gourmet cuisine
Refined flavors for gourmet palates at the panoramic restaurant Alpin Life Style at the Mirabell Chalet. Creative and elaborate dishes will surprise you. A high-class gourmet cuisine: a mix of South Tyrolean delicacies, with authentic Mediterranean specialties. Fresh and genuine products to enjoy to their full goodness and taste. Everything accompanied by fine wines. Special care given to those with food allergies and dietary restrictions.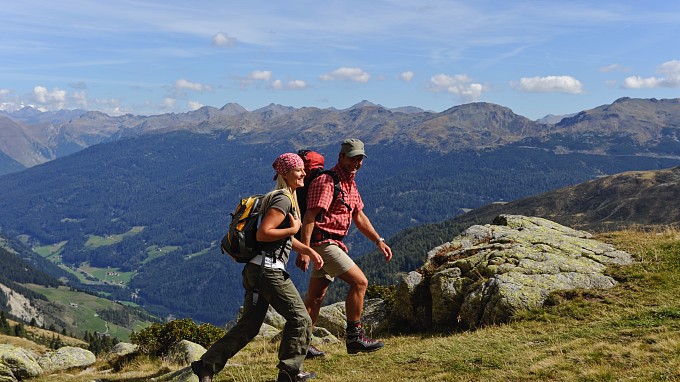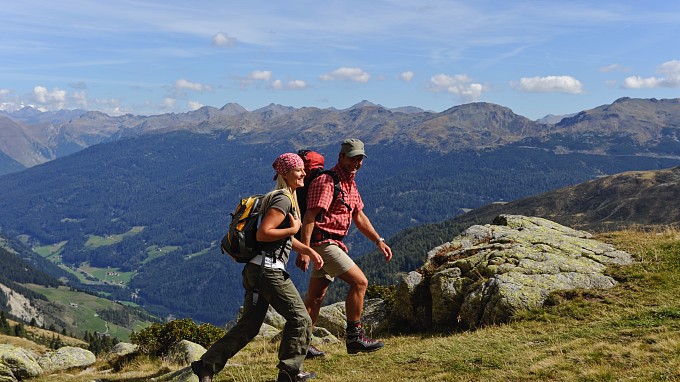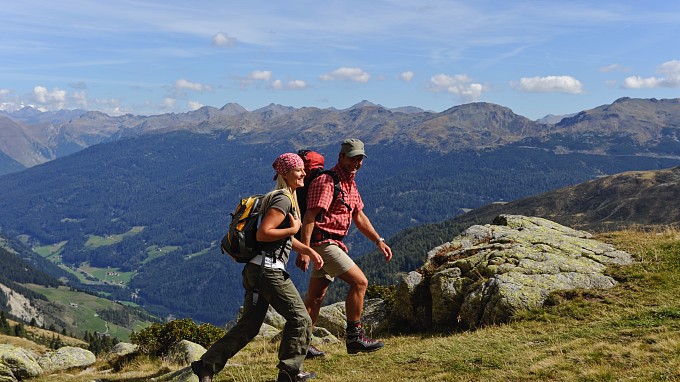 Active and forever moving
Chalet Mirabell is in the fabulous skiing and hiking area of Merano 2000, a paradise of sun, nature, and endless adventures. Among the many offerings, a riding holiday with riding lessons, pony rides, and guided bridle tours. Whether it's summer or winter in Avalengo you'll never stop! Guided tours by mountain bike, hiking with snowshoes, climbing, weekly trips with the Reiterer Family to the new Chalet "M", and then again torchlight walks, carriage rides, evening tobogganing, and an extensive training program including: water aerobics, Pilates, yoga, stretching, and Nordic walking.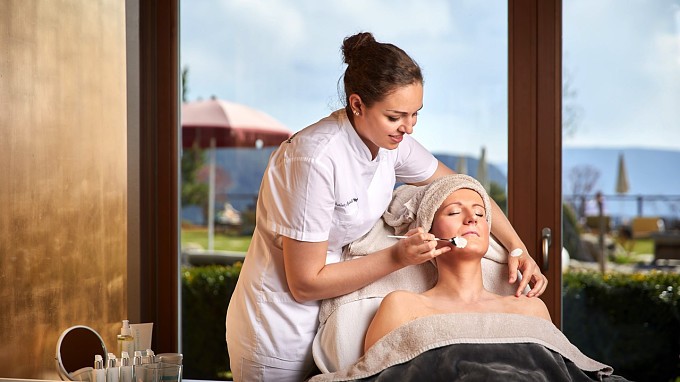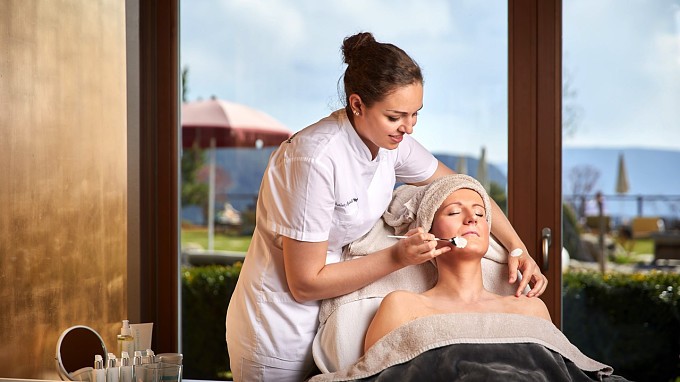 In the Premium Spa & Beauty only pleasure, snuggles, and vices
Taking care of oneself, finding inner balance, forgetting daily problems by trying beauty treatments for hands, feet, face, and body. A wide variety of herbs and plants in Alto Adige create high quality beneficial effects. The professional staff of the Mirabell Chalets will give you moments of total abandonment and relaxation of mind, body and spirit. Detoxifying baths, sports compresses with arnica and St. John's wort, hydration for the body with apple and rosehips, anti-aging High Tech Power, massages with aromatic oils and many other treatments are ready to amaze you.
Wood in the spotlight among tradition and design
Simple ideas, a charming and elegant environment for a typically designed Tyrolean hotel. The interiors are modern, but are beautifully combined with solid seasoned spruce, pine, and oak from the surroundings of Merano. The luxurious and spacious terraces are covered in natural wood and offer romantic moments surrounded by a mountainous panorama. The chalets and suites should be considered real works of art, where you can experience Alpine lifestyle along contemporary elements: chandeliers, tiled stoves, paintings and huge windows to not miss a moment.
Hotel Chalet Mirabell
Fam. Reiterer
Go to the website
Set against the beautiful plateau of Avelengo, the 5 stars wellness hotel Chalet Mirabell – the spirit of Meran – overlooks the valley of Merano. Thanks to its proximity to the skiing paradise of Merano 2000 Chalet in South Tyrol, it's a true gem where to vacation for pure pleasure and adventure. Alpine style with a modern twist give a comfortable and relaxing atmosphere where you'll feel at home and start your vacation on the right foot.
The Mirabell Chalet staff has really thought about it at all and knows that good sleep is important to start your day. For this reason different categories of suites and rooms were created. Equipped with every comfort they'll welcome any family with open arms who love the mountains and wellness. Inside you will find endless amenities including the luxurious Spa & Beauty area, rated 5-stars thanks to a perfect combination which includes Water World, a swimming lake with spring water biologically treated, Body & Fitness area with Personal Training, beauty booths, and private Spa. In 2017 was built a new 25 m long Sunset Pool outdoor - only for adults, a large Finnish sauna, diving pool and whirlpool, Chalet Spa Relax Lounge and a new fitness and yoga room.
And what better way to end a perfect stay than with a good meal in the panoramic restaurant Alpin Life Style. The exquisite gourmet food served is comprised of dishes that will captivate your palate while intoxicating the soul and body with new flavors and aromas.
In 2018 the Hotel Chalet Mirabell created new and luxurious spaces: exclusive mountain villas, bar & restaurant Lounge, baby & kidspool with slide, spacious and light-exposed kids adventure world with childcare & youth lounge and a new winter outdoor lounge with fireplace.
The important Relax Guide 2020, which anonymously tests the wellness hotel of Austria and Germany, has dedicated a special section to the South Tyrol "South Tyrol Top 25": the Mirabell has immediately obtained the maximum score (4 Lilies - 20 points), winning the award as Best Wellness Hotel in South Tyrol.
NEW 2021:
- New chalet-style exterior design
-New suites and family rooms with timeless luxury in the main building with elegant bathrooms and enlarged loggias
-New indoor chalet-style pool in our Alpine Spa with access to the heated outdoor pool with whirlpool area, massage jets and much more.
Facilities and Conditions
Pets allowed
Pet-sitting services
Live entertainment
Golf course 5 km
Walking routes <500 m
Horseback riding 1 km
Hiking trail <500 m
Mountain climbing <500 m
Rock climbing 5 km
Tennis court 5 km
Fitness center 1 km
Jogging trail <500 m
River rafting 5 km
Bike rental
Mountain biking/ bike trail <500 m
Cyclists welcome
Bike storage room
Complimentary wireless internet
Baby sitting
Game room
Baby kit
Children welcome
Boutiques/stores 5 km
Gift/News stand
Credit card

American Express
CartaSì
Euro/Mastercard
Maestro
Visa

Bank transfer
Exercise gym
Pool
Health and beauty services
Relaxation area
Spa
Beauty farm
Sauna
Children's pool
Solarium
Ski room
Ski slopes 5 km
Cross country skiing 5 km
Free skibus
Snowboard 5 km
Children's menu
Coffee shop
Restaurant
Lounges/bars
Newspaper
Multilingual staff

Italian
English
German
Russian

Designeted smoking area
Elevators
Room service
Smoke-free property
Umbrellas
Hairdresser
Complimentary newspaper in lobby
Complimentary newspaper delivered to room
Welcome gift
Cloakroom service
Guestroom wireless internet
Airport shuttle service
Local transportation services
Front-desk/reception area services
Baggage hold
Express check-in
Express check-out
24-hour front desk
Early check-in
Check-in kiosk
Concierge lounge
Late check-out available
Lobby
Door man
Front desk
Dry cleaning
Complimentary shoeshine
Housekeeping - daily
Laundry
BBQ/Picnic area <500 m
Garden
Barbeque grills
Terrace